New Method to Estimate Abundance, Detect Trends in North Atlantic Right Whales Confirms Recent Population Decline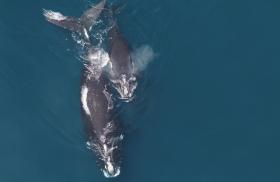 NOAA Fisheries researchers and colleagues at the New England Aquarium have developed a new model to improve estimates of abundance and population trends of endangered North Atlantic right whales, which have declined in numbers and productivity in recent years. The findings were published in the journal Ecology and Evolution.
Between 1990 and 2010, the abundance of North Atlantic right whales increased just under three percent per year, from about 270 animals in 1990 to 482 in 2010. After relatively steady increases over that time, abundance has declined each year since 2010 to 458 animals in 2015. The analysis shows that the probability that the population has declined since 2010 is estimated at 99.99 percent. Of particular concern is decline of adult females in the population, estimated at 200 in 2010 but 186 in 2015, the known deaths of 14 North Atlantic right whales this year, and the widening gap between numbers of males and females.
Read more at NOAA Northeast Fisheries Science Center
Photo: North Atlantic right whale mother and calf.
Photo credit: NOAA Fisheries/Christin Khan, NEFSC