Peel-and-go printable structures fold themselves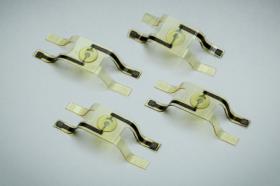 As 3-D printing has become a mainstream technology, industry and academic researchers have been investigating printable structures that will fold themselves into useful three-dimensional shapes when heated or immersed in water.
In a paper appearing in the American Chemical Society's journal Applied Materials and Interfaces, researchers from MIT's Computer Science and Artificial Intelligence Laboratory (CSAIL) and colleagues report something new: a printable structure that begins to fold itself up as soon as it's peeled off the printing platform.
One of the big advantages of devices that self-fold without any outside stimulus, the researchers say, is that they can involve a wider range of materials and more delicate structures.
"If you want to add printed electronics, you're generally going to be using some organic materials, because a majority of printed electronics rely on them," says Subramanian Sundaram, an MIT graduate student in electrical engineering and computer science and first author on the paper. "These materials are often very, very sensitive to moisture and temperature. So if you have these electronics and parts, and you want to initiate folds in them, you wouldn't want to dunk them in water or heat them, because then your electronics are going to degrade."
Continue reading at MIT.
Photo via MIT.