Hold the Phone: An Ambulance Might Lower Your Chances of Surviving Some Injuries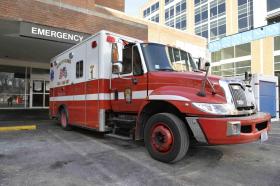 Victims of gunshots and stabbings are significantly less likely to die if they're taken to the trauma center by a private vehicle than ground emergency medical services (EMS), according to results of a new analysis.
A report on the study's findings, published Sept. 20 in JAMA Surgery, highlights the importance of studying the effects of transport, EMS services and other prehospital interventions by specific injury type.
"Time is truly of the essence when it comes to certain kinds of injuries and our analysis suggests that, for penetrating injuries such as knife and gun wounds, it might be better to just get to a trauma center as soon as possible in whatever way possible," says Elliott Haut, M.D., Ph.D., an associate professor of surgery and emergency medicine at the Johns Hopkins University School of Medicine and the paper's senior author.
While Haut acknowledges that more research needs to be conducted before declaring one type of transport superior to another, he says, "For certain types of injury, it might be best to call the police, Uber or a cab — however you can get to the trauma center fastest."
Read more at Johns Hopkins Medicine
Image: A new study finds that victims of gunshots and stabbings are significantly less likely to die if they're taken to the trauma center by a private vehicle than ground emergency medical services (EMS). (Credit: Johns Hopkins Medicine)