Breaking Legume's Crop Wild Relative Barrier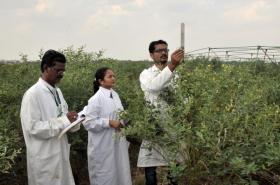 Domesticating plants to grow as crops can turn out to be a double-edged scythe.
On one hand, selecting specific desirable traits, such as high yields, can increase crop productivity. But other important traits, like resistance to pests, can be lost. That can make crops vulnerable to different stresses, such as diseases and pests, or the effects of climate change.
To reduce these vulnerabilities, researchers often turn to the wild relatives of crops. These wild relatives continue to evolve in nature, often under adverse conditions. They possess several useful genes for desirable traits. These traits include high levels of resistance to diseases and tolerance to environmental stresses.
In a new study, scientists report significant strides in transferring disease- and stress-resistance traits from wild relatives of several legumes to their domesticated varieties. This research was conducted at the International Crops Research Institute for the Semi-Arid Tropics (ICRISAT) in Patancheru, India.
Read more at American Society of Agronomy
Image: Researchers Milind (right) and Sathyanarayana (left) with Sharma, record data on plant height in pigeonpeas. (Credit: PS Rao)