Ageing Star Blows Off Smoky Bubble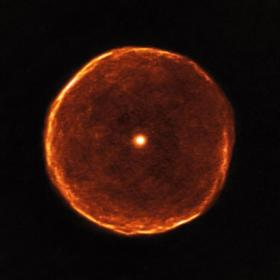 In the faint southern constellation of Antlia (The Air Pump) the careful observer with binoculars will spot a very red star, which varies slightly in brightness from week to week. This very unusual star is called U Antliae and new observations with the Atacama Large Millimeter/submillimeter Array (ALMA) are revealing a remarkably thin spherical shell around it.
U Antliae [1] is a carbon star, an evolved, cool and luminous star of the asymptotic giant branch type. Around 2700 years ago, U Antliae went through a short period of rapid mass loss. During this period of only a few hundred years, the material making up the shell seen in the new ALMA data was ejected at high speed. Examination of this shell in further detail also shows some evidence of thin, wispy gas clouds known as filamentary substructures.
This spectacular view was only made possible by the unique ability to create sharp images at multiple wavelengths that is provided by the ALMA radio telescope, located on the Chajnantor Plateau in Chile's Atacama Desert. ALMA can see much finer structure in the U Antliae shell than has previously been possible.
Read more at European Southern Observatory
Image: This ALMA image reveals much finer structure in the U Antliae shell than has previously been possible. Around 2700 years ago, U Antliae went through a short period of rapid mass loss. During this period of only a few hundred years, the material making up the shell seen in the new ALMA data was ejected at high speed. Examination of this shell in further detail also shows some evidence of thin, wispy clouds known as filamentary substructures. (Credit: ALMA (ESO/NAOJ/NRAO)/F. Kerschbaum)