Going Diving in the Tropics? Don't Eat the Reef Fish!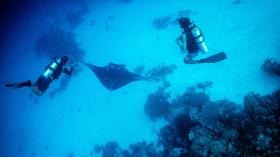 Reducing tourist consumption of reef fish is critical for Palau's ocean sustainability, finds a new Nippon Foundation-UBC Nereus Program study published today in Marine Policy.
While climate change is expected to lead to sharp declines in Palau's reefs, the best tourism management strategy includes a more than 70 per cent reduction in reef fish consumption by visitors. These findings are highly relevant for sustainable development in small island developing states under climate change.
"Palau's reefs and the fish communities they host are incredibly beautiful and recognized worldwide as a top diving destination," says lead author Colette Wabnitz, Nippon Foundation-UBC Nereus Program Research Associate, University of British Columbia. "Tourist numbers can reach nine times the local population and most come to enjoy the ocean. This puts enormous pressure on local marine resources that are central to local communities' culture and livelihoods."
Palau, an archipelago of 700 islands in the South Pacific, is heavily dependent on tourism. Many studies have focused on damage that tourists cause reefs physically — from stepping on coral to interacting with wildlife — but this is the first to look at the effects of eating the same fish that tourists are looking at through their dive masks.
Read more at Nippon Foundation-Nereus Program
Image: Tourists view a manta ray on a dive in Palau. (Credit: Image by Peter Mumby)