NASA Sees Short-lived Tropical Depression 22W Make Landfall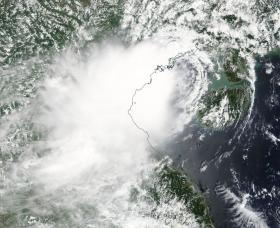 NASA's Terra satellite captured the landfall of Tropical Depression 22W in northern Vietnam. The Depression only existed for two days before it made landfall and began dissipating.
Tropical Depression 22W formed in the South China Sea just west of the northern Philippines on Sept. 23 around 5 p.m. EDT (2100 UTC) and moved across Hainan and into northern Vietnam.
Read more at NASA/Goddard Space Flight Center
Image: The MODIS instrument that flies aboard NASA's Terra satellite captured a visible picture of the depression on Sept. 24, in the afternoon (local time). The depression appeared asymmetric from northeast to southwest over the Vietnam coast.
Credits: NASA Goddard MODIS Rapid Response Team