Warming Climate Could Increase Bacterial Impacts on Chesapeake Bay Shellfish, Recreation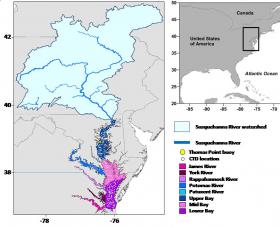 Researchers have found that three common species of Vibrio bacteria in Chesapeake Bay could increase with changing climate conditions by the end of this century, resulting in significant economic and healthcare costs from illnesses caused by exposure to contaminated water and consumption of contaminated shellfish.
The study, the first to apply a new way of downscaling global climate models to the Chesapeake Bay, was conducted by National Oceanic and Atmospheric Administration (NOAA) scientists and colleagues. It appears in the American Geophysical Union journal GeoHealth.
Vibrio bacteria occur naturally in the Chesapeake Bay and in coastal and estuarine waters around the world. About a dozen Vibrio species can cause human illness, known as vibriosis. Two of the most common species causing human illness in the United States, Vibrio parahaemolyticus and Vibrio vulnificus, occur in the Chesapeake Bay. Their abundance varies with water temperature, salinity and other environmental factors. A third species, Vibrio cholerae, also occurs in Chesapeake Bay but is not associated with cholera epidemics, although like other Vibrio species it can sometimes cause illness in people who eat contaminated shellfish, such as oysters.
Read more at NOAA Northeast Fisheries Science Center
Photo: Map showing the location of the Chesapeake Bay, the Susquehanna River watershed and major tributaries, and the eight zones/locations sampled in the bay.
Photo credit: Barbara Muhling et al, GeoHealth