Large iceberg breaks off Pine Island Glacier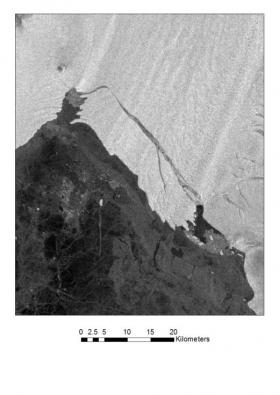 Latest satellite images reveal a new 100-square-mile iceberg emerging from Antarctica's Pine Island Glacier. The calving event did not come as a complete surprise, but is a troubling sign with regards to future sea level rise.
Pine Island Glacier (PIG) is the fastest melting glacier in Antarctica—one that's responsible for a quarter of the frozen continent's ice loss, around 45 billion tons of ice each year. Satellite images taken on 26 September show an open-water gap emerging between the ice shelf and the iceberg, which is about two thirds the size of the Isle of Wight (103 square miles or 267 square km).
The new iceberg appears to be quite unstable, producing a batch of smaller icebergs as it slowly drifts out to sea. The new berg is not nearly as big as the one that calved off the Antarctic Peninsula's Larsen C ice shelf a few months ago—an enormous chunk of ice that measures about 2,240 square miles (5,800 square km).
Continue reading at British Antarctic Survey
Image: Polar View image of iceberg emerging from Pine Island Glacier taken on 26 September 2017
Image Credit: British Antarctic Survey