South Carolina oyster farming: One man finds success on the half shell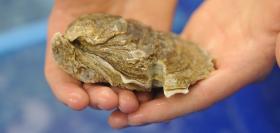 As a young Marine stationed in South Carolina in 1981, Frank Roberts recognized that the state's low country was ideal for oyster farming. His family harvested oysters in the Chesapeake Bay and Long Island Sound, and he had a hunch it would work in South Carolina too.
Roberts eventually started his own oyster farm in South Carolina — making a key contribution to a growing nationwide aquaculture trend worth $1.3 billion (2014 figure), with some help from NOAA.
When Roberts started Lady's Island Oysters, there were only a handful of other oyster farmers in the state. At that time, each farmer sourced their own oyster seed, known as spat, from Virginia.
Then in 2014, South Carolina's entire oyster aquaculture industry faced a major logistical hurdle when the state issued a ban on importing oyster seed, citing concerns of disease transfer.
Continue reading at NOAA.
Photo via NOAA.