NASA Satellite Finds Powerful Storms in Tropical Storm Ramon's Center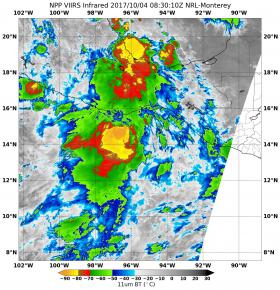 NASA-NOAA's Suomi NPP satellite looked at Tropical Storm Ramon in infrared light, revealing powerful storms around the center. Ramon formed close to the southwestern coast of Mexico and has already generated a tropical storm watch.
The government of Mexico has issued a Tropical Storm Watch from Puerto Angel to Acapulco.
On Oct. 4 at 4:30 a.m. EDT (0830 UTC) the Visible Infrared Imaging Radiometer Suite (VIIRS) instrument aboard Suomi NPP analyzed Tropical Storm Ramon in infrared light. Infrared light provides temperature information. The infrared data showed some strong storms around the center of circulation where cloud top temperatures were as cold as minus 80 degrees Fahrenheit (minus 62.2 degrees Celsius), indicating strong thunderstorms with potential for heavy rainfall.
Read more at NASA/Goddard Space Flight Center
Image: On Oct. 4, NASA-NOAA's Suomi NPP satellite showed some strong storms around Tropical Storm Ramon's center of circulation where cloud top temperatures were as cold as (yellow) minus 80 degrees Fahrenheit (minus 62.2 degrees Celsius), indicating strong thunderstorms with potential for heavy rainfall. Credits: NOAA/NASA/NRL