UBC researchers take the 'stink' out of wastewater treatment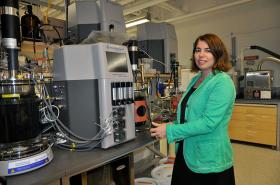 A foul smell and safety concerns can leave many residents turning their nose at the idea of a wastewater treatment plant in their neighbourhood.
But researchers from UBC's Okanagan campus have developed a new way of making wastewater treatment dramatically safer and better smelling by using common and inexpensive chemicals.
Cigdem Eskicioglu, an associate professor with UBC Okanagan's School of Engineering, says many wastewater treatment facilities use anaerobic digestion – microorganisms fermenting organic waste – as an effective way to recover energy and nutrients from wastewater residual sludge. However, the process also produces toxic, corrosive and extremely odourous sulfuric gases, like hydrogen sulfide, which prevented many communities from adopting the technology.
"There are strong arguments for wastewater treatment facilities to use anaerobic digestion, but the equipment required to control odour and to make the biogas safe have been an expensive barrier," says Eskicioglu, co-author on the study. "We've discovered a formula that seems to solve that problem."
Read more at University of British Columbia Okanagan Campus
Image: Cigdem Eskicioglu is a professor of engineering at UBC's Okanagan Campus.
Image Credit: University of British Columbia Okanagan Campus