Tropical beetles face extinction threat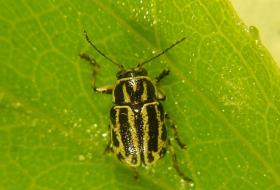 Climate change is putting many tropical high altitude beetles at risk of extinction, warn an international team of scientists.
Research by the University of York, the Federal University of Rio de Janeiro (UFRJ) and the Federal University of Goiás has found that two plant-eating beetle groups – weevils and leaf beetles – are particularly vulnerable to climate change.
The researchers surveyed a number of insect groups at different altitudes in the Brazilian Atlantic Rainforest, an area known for its high diversity of plant and animal species.
They found that a large proportion of species, mostly from the diverse herbivorous beetle groups, are only found at higher altitude. This puts these species at high risk of extinction as they have nowhere to go when the climate gets warmer.
Read more at University of York
Image: A species of leaf beetle from the genus Pachybrachis collected from high elevations in the study. Image Credit: Dr Vivian Flinte