Carbon Feedback from Forest Soils will Accelerate Global Warming, 26-Year Study Projects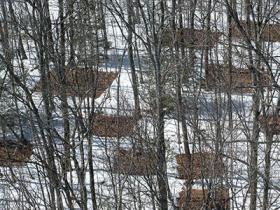 Melillo and colleagues began this pioneering experiment in 1991 in a deciduous forest stand at the Harvard Forest in Massachusetts. They buried electrical cables in a set of plots and heated the soil 5° C above the ambient temperature of control plots. Over the course of the 26-year experiment (which still continues), the warmed plots lost 17 percent of the carbon that had been stored in organic matter in the top 60 centimeters of soil.
"To put this in context," Melillo says, "each year, mostly from fossil fuel burning, we are releasing about 10 billion metric tons of carbon into the atmosphere. That's what's causing the increase in atmospheric carbon dioxide concentration and global warming. The world's soils contain about 3,500 billion metric tons of carbon. If a significant amount of that soil carbon is added to the atmosphere due to microbial activity in warmer soils, that will accelerate the global warming process. And once this self-reinforcing feedback begins, there is no easy way to turn it off. There is no switch to flip."
Continue reading at The University of Chicago.
Image source: Audrey Barker-Plotkin