Zebra chip pathogen found in Western Canada for the first time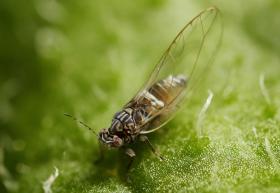 For the first time, evidence of the zebra chip pathogen has been found in potato fields in southern Alberta, but the University of Lethbridge's Dr. Dan Johnson cautions against panic.
"So far, the zebra chip pathogen has appeared in only small numbers of potato psyllids," says Johnson, a biogeography professor and coordinator of the Canadian Potato Psyllid and Zebra Chip Monitoring Network. "The number of potato psyllids in all Alberta sites is very low and many sample cards have found no evidence of the potato psyllid insect. Zebra chip does not normally become a problem unless the potato psyllids are found in much higher numbers than are currently being found in Canada."
An infected potato psyllid insect carries the Lso (Candidatus Liberibacter solanacearum) pathogen that can cause zebra chip disease in potato crops. Zebra chip has affected potato crops in the United States, Mexico and New Zealand and caused millions of dollars in losses. Potatoes with zebra chip develop unsightly dark lines when fried, making affected potatoes unsellable.
DNA testing for Lso was conducted in Dr. Larry Kawchuk's lab, Agriculture and Agri-Food Canada, Lethbridge, from psyllids found on sampling cards in Johnson's lab at the U of L. The first detection of Lso came from sampling cards collected at one site south of Highway 3. Johnson and his team subsequently increased the intensity of their sampling.
Continue reading at University of Lethbridge.
Photo via University of Lethbridge.