Sea Level Rise Could Flood 1.9 Million U.S. Homes by 2100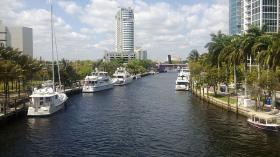 An estimated 1.9 million U.S. homes could be flooded by 2100 if seas rise 6 feet in response to climate change, according to a new analysis by the real estate company Zillow. The affected properties are valued at $916 billion dollars and represent 1.8 percent of the country's housing stock.
The report, published last week, finds that without climate resiliency measures such as sea walls, the majority of flooded homes will be moderate- or lower-priced properties. High-end real estate accounts for 39 percent of at-risk houses.
"While the damage caused by recent hurricanes is a devastating reminder of how quickly the weather can undo people's lives and destroy their homes, the potential for damage from a slower-moving phenomenon could be even more destructive," the report says.
Continue reading at Yale Environment 360
Photo: Fort Lauderdale Florida
Photo Credit: D Ramey Logan