MIT students fortify concrete by adding recycled plastic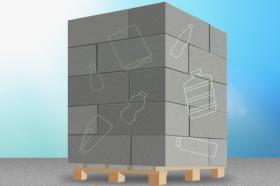 Discarded plastic bottles could one day be used to build stronger, more flexible concrete structures, from sidewalks and street barriers, to buildings and bridges, according to a new study.
MIT undergraduate students have found that, by exposing plastic flakes to small, harmless doses of gamma radiation, then pulverizing the flakes into a fine powder, they can mix the plastic with cement paste to produce concrete that is up to 20 percent stronger than conventional concrete.
Concrete is, after water, the second most widely used material on the planet. The manufacturing of concrete generates about 4.5 percent of the world's human-induced carbon dioxide emissions. Replacing even a small portion of concrete with irradiated plastic could thus help reduce the cement industry's global carbon footprint.
Reusing plastics as concrete additives could also redirect old water and soda bottles, the bulk of which would otherwise end up in a landfill.
Continue reading at Massachusetts Institute of Technology (MIT)
Image Credit: MIT News