NASA Finds New Tropical Storm Selma Has Heavy Rain-making Potential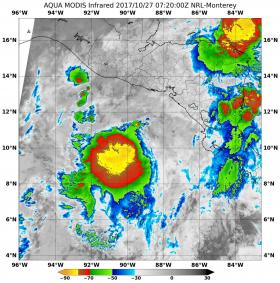 Tropical Storm Selma formed in the Eastern Pacific Ocean off the coast of El Salvador and NASA infrared satellite imagery revealed the storm has very cold cloud top temperatures indicating the potential for heavy rain.
A Tropical Storm Warning is in effect for the entire coast of El Salvador and a Tropical Storm Watch is in effect for the Pacific coast of Guatemala.
The National Hurricane Center noted that Selma is a sheared tropical cyclone. That means vertical wind shear is pushing clouds associated with the storm away from the center of circulation. Early morning visible satellite images and recent microwave imagery showed that the center is located near the northeastern edge of a small, but persistent cluster of deep convection.
When NASA's Aqua satellite passed over Selma on Oct. 27 at 3:20 a.m. EDT (0720 UTC), the MODIS instrument aboard showed strongest storms were northeast of center. Those strong storms had cloud top temperatures as cold as minus 80 degrees Fahrenheit (minus 62.2 degrees Celsius), indicating strong thunderstorms with potential for heavy rainfall.
Read more at NASA/Goddard Space Flight Center
Image: When NASA's Aqua satellite passed over Tropical Storm Selma on Oct. 27 at 3:20 a.m. EDT (0720 UTC), the MODIS instrument aboard showed strongest storms were northeast of center. Those strong storms had cloud top temperatures as cold as (yellow) minus 80 degrees Fahrenheit (minus 62.2 degrees Celsius), indicating strong thunderstorms with potential for heavy rainfall. (Credit: NASA/NRL)