NASA Spots Tropical Storm Damrey Headed West in South China Sea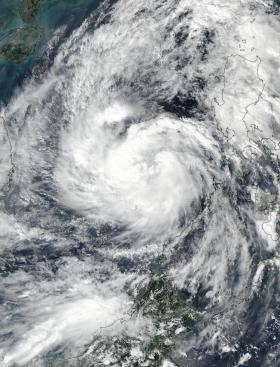 NASA-NOAA's Suomi NPP satellite flew over the South China Sea and captured a visible image of newly formed Tropical Storm Damrey as it moved on a westerly track toward Vietnam.
Damrey formed as a depression on Nov. 1 around 5 p.m. EDT (2100 UTC). It was designated Tropical Depression 28W. Early on Nov. 2 the depression strengthened into a tropical storm and was renamed Damrey.
On Nov. 2 at 1:24 a.m. EDT (05:24 UTC) the VIIRS instrument aboard NASA-NOAA's Suomi NPP satellite provided a visible image of the storm, west of the Philippines, in the South China Sea. The image showed consolidating bands of thunderstorms wrapping into a low level circulation center.
Read more at NASA/Goddard Space Flight Center
Image: On Nov. 2 at 1:24 a.m. EDT (05:24 UTC) NASA-NOAA's Suomi NPP provided a visible image of the Tropical Storm Damrey, west of the Philippines, in the South China Sea. The image showed consolidating bands of thunderstorms wrapping into a low level circulation center. (Credits: NOAA/NASA Goddard Rapid Response Team)