Is that burger bad for your knees?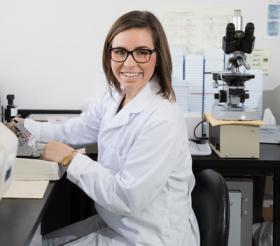 One could say that biomedical engineering grad Kelsey Collins is walking in the footsteps of giants.
When Collins started out as a grad student at the University of Calgary's Human Performance Laboratory, she didn't know that her path would lead her to a postdoctoral appointment at Washington University in St. Louis — home to no fewer than 17 Nobel laureates in medicine and physiology, and a world-renowned institute for orthopaedic research.
Joining the ranks at Washington, Collins will build on research she started in her time at UCalgary, focusing on the relationship between diet and joint and muscle damage.
The perils of a junk food diet are well known, but there is still much to learn about the mechanics of those risks — especially for our muscles and joints. Collins's doctoral work explores how a high-fat, high-sugar diet impacts the human musculoskeletal system. Her research has opened new lines of inquiry by challenging certain assumptions. Obesity is often accompanied by osteoarthritis, a form of joint damage that was thought to result from joint strain caused by excess body mass. Collins's findings suggest that the true relationship between osteoarthritis and obesity is more complex.
Continue reading at University of Calgary.
Photo via University of Calgary.