Infrared NASA Imagery Shows Development of Tropical Depression 31W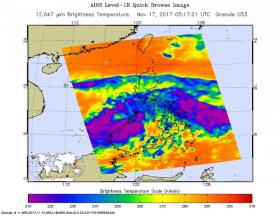 NASA's Aqua satellite provided infrared imagery of the latest tropical cyclone in the South China Sea.
The Atmospheric Infrared Sounder aboard NASA's Aqua satellite captured an infrared image of Tropical Depression 31W on Nov. 17 at 12:17 a.m. EST (0517 UTC). Infrared data provides cloud top temperatures and the coldest cloud tops and strongest storms were in the eastern part of the South China Sea. Some of those storm cloud tops were as cold as minus 63 degrees Fahrenheit (minus 53 degrees Celsius). NASA research has shown that storms with cloud tops that cold have the potential to generate heavy rainfall.
The Joint Typhoon Warning Center reported "animated enhanced infrared satellite imagery shows poorly organized, fragmented, and shallow, albeit formative convective bands loosely feeding into a weak and obscured low level circulation."
Read more at NASA/Goddard Space Flight Center
Image: The AIRS instrument aboard NASA's Aqua satellite captured an infrared image of Tropical Depression 31W on Nov. 17 at 12:17 a.m. EST (0517 UTC). Coldest cloud tops and strongest storms appear in purple. (Credits: NASA JPL/Ed Olsen)