Maps reveal landscape beneath Antarctica's weak underbelly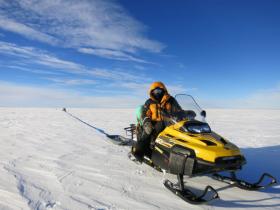 A UK team of researchers has produced high-resolution maps of the bed beneath a major glacier in West Antarctica, which will help them predict future sea-level rise from this region. Radar surveys of the land beneath Pine Island Glacier have revealed a diverse landscape under the ice with some surprises. The results are published today (20 November 2017) in the journal Nature Communications.
The findings are significant as Pine Island Glacier is the fastest melting glacier in Antarctica and currently accounts for up to 10 per cent of global sea level rise. Ice melting into the ocean in the region is expected to increase as the climate warms and the West Antarctic ice sheet continues to thin.
The survey of the glacier, the most detailed to date, was carried out between 2013-2016 as part of the NERC funded iSTAR programme. Snow vehicles equipped with radar sensors surveyed about 1500 sq km of land, taking readings every few hundred metres.
Continue reading at British Antarctic Survey
Photo: Radar was towed behind a skidoo on Pine Island Glacier to survey the bed. (CREDIT: Damon Davies)