Uncertainty Surrounds U.S. Livestock Methane Emission Estimates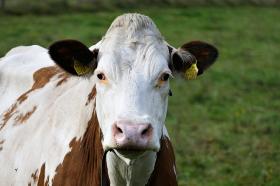 A new study of methane emissions from livestock in the United States — led by a researcher in Penn State's College of Agricultural Sciences — has challenged previous top-down estimates.
The research was conducted because serious discrepancies exist between top-down estimates that suggest the U.S. Environmental Protection Agency is underestimating agricultural methane emissions by up to 90 percent, and bottom-up estimates accepted by the federal government showing lower emissions.
Top-down emissions estimates involve monitoring atmospheric methane concentrations by satellites or from air samples collected at high altitude by planes, and using models to estimate the sources of emissions. Bottom-up estimates take into account livestock populations and animal emission factors.
In their detailed analysis, researchers used a spatially explicit, bottom-up approach, based on animal inventories and feed-intake-based emission factors, to estimate enteric methane emissions for cattle and manure methane emissions for cattle, swine and poultry for the contiguous United States.
Read more at Penn State
Photo credit: HOerwin56 via Pixabay