How barley is expected to benefit from climate change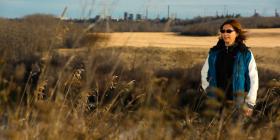 Alberta's most important feed crop for beef production will benefit from warmer temperatures and increased humidity, and so will the beef industry, new University of Alberta research shows.
In an agro-hydrological model combining nine different climate change models and 18 future scenarios, watershed scientist Monireh Faramarzi and post-doctoral fellow Badrul Masud along with other collaborators looked ahead to 2064 to assess the water footprint related to barley and the beef industry.
The researchers concluded rainfed barley crops in northern Alberta will increase, whereas irrigation-fed crops in the southern part of the province will remain stable, yet require less water for production, freeing up precious water for other purposes.
"Global beef production is set to increase by 74 per cent by 2050 to meet global population and economic developments, according to the United Nations' Food and Agriculture Association," said Faramarzi, an assistant professor in the U of A's Department of Earth and Atmospheric Sciences. "With the majority of beef production happening in Alberta, not only for all of Canada but also globally, it's important to understand water-related risks to the industry."
Continue reading at University of Alberta.
Image via University of Alberta.