NASA Sees Ockhi Strengthening Off Southwestern Coast of India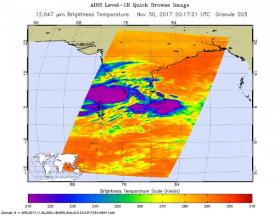 When NASA's Aqua satellite passed over Tropical Storm Ockhi, it measured cloud top temperatures that showed strongest storms were off the coast of southwestern India. Infrared data showed Ockhi intensifing into a typhoon.
The Atmospheric Infrared Sounder aboard NASA's Aqua satellite captured an infrared image of Ockhi on Nov. 30 at 3:17 p.m. EST (20:17 UTC) and showed coldest cloud tops and strongest storms were just off the southwestern coast of India.
Those cloud top temperatures were as cold as minus 63 degrees Fahrenheit (minus 53 degrees Celsius). Storms with cloud top temperatures that cold have the capability to produce heavy rainfall. Hours after Aqua passed overhead, Ockhi strengthened from a tropical storm to hurricane-force.
Read more at NASA/Goddard Space Flight Center
Image: The AIRS instrument aboard NASA's Aqua satellite captured an infrared image of Ockhi on Nov. 30 at 3:17 p.m. EST (20:17 UTC) and showed coldest cloud tops and strongest storms (purple) were just off the southwestern coast of India. (Credits: NASA JPL/Ed Olsen)