Extreme fieldwork, drones, climate modeling yield new insights about Greenland's melting ice sheet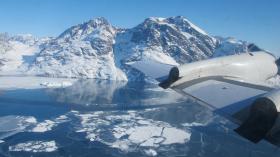 A new UCLA-led study reinforces the importance of collaboration in assessing the effects of climate change.
The research, published today in the journal Proceedings of the National Academy of Sciences, offers new insights about previously unknown factors affecting Greenland's melting ice sheet, and it could ultimately help scientists more accurately predict how the phenomenon could cause sea levels to rise.
Greenland is the single largest melting ice sheet in terms of meltwater runoff contributing to rising sea levels — and at least half of sea level rise from Greenland is from melting ice, said Laurence C. Smith, a UCLA professor of geography. (That's even more than the amount caused by ice calving, when large blocks of ice separate from the ice sheet, forming icebergs, which eventually melt into the sea.)
Since 2012, a team led by Smith has visited Greenland's ice sheet several times, using satellites, drones and sophisticated sensors to track flow rates of meltwater rivers atop the glaciers, and to map their watersheds, which include the surface areas between the rivers.
Read more at University of California - Los Angeles
Image Credit: NASA / Jim Yungel