Human-Caused Warming Likely Intensified Hurricane Harvey's Rains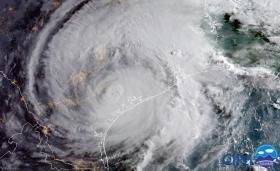 New research shows human-induced climate change increased the amount and intensity of Hurricane Harvey's unprecedented rainfall. The new findings are being published in two separate studies and being presented in a press conference today at the 2017 American Geophysical Union Fall Meeting, along with additional new findings about recent Atlantic Ocean hurricanes.
Hurricanes Harvey, Irma and Maria battered the U.S. Gulf Coast and Caribbean earlier this year, bringing widespread flooding and wind damage. Hurricane Harvey, a Category 4 storm at first landfall on August 25, stalled over Texas as a tropical storm, causing record rainfall between August 26 and 28.
A new study accepted for publication in Geophysical Research Letters (GRL), a journal of the American Geophysical Union, finds Hurricane Harvey's seven-day rainfall total potentially increased by at least 19 percent compared to a similar storm in the mid-20th century. Another study published online today in the journal Environmental Research Letters (ERL) directly attributes the rainfall increase to human-caused climate change. The ERL paper finds climate change made the record three-day rainfall that fell over Houston during Hurricane Harvey roughly three times more likely and 15 percent more intense than a similar storm in the early 1900s.
Read more at American Geophysical Union
Image Credit: NOAA