NASA Sees Tropical Storm Kai-Tak Moving Over the Philippines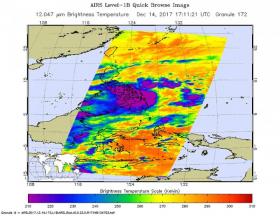 NASA's Aqua satellite provided infrared imagery of Tropical Storm Kai-Tak that revealed the western side of storm had moved into the southern and central Philippines. Infrared data revealed very cold cloud top temperatures with the potential for heavy rainfall.
The Atmospheric Infrared Sounder aboard NASA's Aqua satellite captured an infrared image of Tropical Storm Kai-Tak on Dec. 14 at 12:11 p.m. EST (1711 UTC). Infrared data provides cloud top temperatures and the coldest cloud tops and strongest storms were blanketing the southern and central Philippines. Infrared data showed persistent central cold cover obscuring the low-level circulation center where cloud top temperatures were as cold as minus 115.6 degrees Fahrenheit or minus 82 degrees Celsius. NASA research has shown that storms with cloud tops that cold have the potential to generate heavy rainfall.
On Dec. 15 at 10 a.m. EST (1500 UTC) the Joint Typhoon Warning Center reported that Tropical storm Kai-tak, known as Urduja in the Philippines had maximum sustained winds near 45 knots (52 mph/83 kph). The storm had slowed to a crawl, moving west at just 2 knots (2.3 mph/3.7 kph). When a tropical cyclone slows over land, it increases the likelihood for inland flooding.
Read more at NASA/Goddard Space Flight Center
Image: The AIRS instrument aboard NASA's Aqua satellite captured an infrared image of Tropical Storm Kai-Tak on Dec. 14 at 12:11 p.m. EST (1711 UTC). Coldest cloud tops and strongest storms appear in purple. (Credit: NASA JPL/Ed Olsen)