Humidity May Prove Breaking Point for Some Areas as Temperatures Rise, Says Study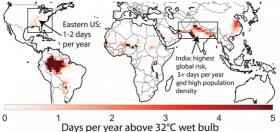 Climate scientists say that killer heat waves will become increasingly prevalent in many regions as climate warms. However, most projections leave out a major factor that could worsen things: humidity, which can greatly magnify the effects of heat alone. Now, a new global study projects that in coming decades the effects of high humidity in many areas will dramatically increase. At times, they may surpass humans' ability to work or, in some cases, even survive. Health and economies would suffer, especially in regions where people work outside and have little access to air conditioning. Potentially affected regions include large swaths of the already muggy southeastern United States, the Amazon, western and central Africa, southern areas of the Mideast and Arabian Peninsula, northern India and eastern China.
"The conditions we're talking about basically never occur now—people in most places have never experienced them," said lead author Ethan Coffel, a graduate student at Columbia University's Lamont-Doherty Earth Observatory. "But they're projected to occur close to the end of the century." The study will appears this week in the journal Environmental Research Letters.
Continue reading at The Earth Institute - Columbia University
Map: A new study projects that drastic combinations of heat and humidity may hit large areas of the world later this century. (CREDIT: Ethan Coffel)