Researchers discover higher environmental impact from cookstove emissions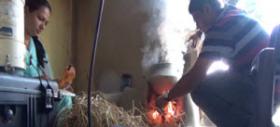 Despite advances in technology, many people are reluctant or unable to adopt the newer, cleaner cookstoves. For several years, a collaborative team from Washington University in St. Louis has studied the issue and potential solutions. Now, new research gives them a clearer picture of the topic's true scope.
"Our project findings quantitatively show that particulate emissions from cookstoves in India have been underestimated," said Rajan Chakrabarty, assistant professor of energy, environmental & chemical engineering at the School of Engineering & Applied Science.
The research, recently published in Atmospheric Chemistry and Physics, was the culmination of field studies conducted in India by faculty members at Washington University's School of Engineering & Applied Science and the Brown School. In December 2015, the researchers spent 20 days running a series of tests in Raipur, a city in central India where more than three-quarters of the families use cookstoves to prepare their meals.
Continue reading at Washington University in St. Louis
Image via Rajan Chakrabarty, Washington University in St. Louis