Sowing corals: A new approach paves the way for large-scale coral reef restoration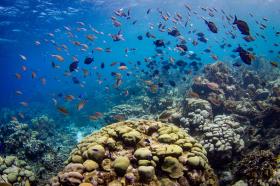 Scientists pioneer in developing a novel approach to simply sow coral recruits onto degraded reefs like farmers scatter seedlings on a field. With this innovation, formerly costly and time-consuming handling can be minimized, and may allow for effective large-scale reef restoration. The study led by SECORE International was recently published.
The troubling loss of coral reefs worldwide has prompted scientists and conservationists to assist the reefs' recovery through active restoration approaches. Transplanting corals on degraded reefs aims at increasing coral cover and subsequently promoting structural habitats. Until now, actual restoration has been done manually by divers, who had to attach each coral, whether a fragment or a coral recruit settled on a substrate, individually.
Today, reef degradation occurs at a scale of hundreds and thousands of square kilometers. In contrast, current restoration activities are usually less than one hectare in scale. These efforts are limited by the fact that only labor-intensive, and therefore costly, techniques are currently available. "If we want restoration to play a more meaningful role in coral reef conservation, we need to think in new directions. Our sowing approach is an important step towards reaching this goal since it will allow the handling of large numbers of corals in a very short amount of time at significantly lower costs", says Dr. Dirk Petersen, project lead and Executive Director of SECORE International.
Continue reading at SECORE International
Photo: A healthy looking reef site in the waters of Curaçao. CREDIT: Tom Moore