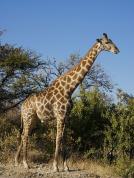 For the first time, the genomes of the giraffe and its closest living relative, the reclusive okapi of the African rainforest, have been sequenced — revealing the first clues about the genetic changes that led to the evolution of the giraffe's exceptionally long neck and its record-holding ranking as the world's tallest land species. The research will be published in the scientific journal Nature Communications on May 17, 2016.
"The giraffe's stature, dominated by its long neck and legs and an overall height that can reach 19 feet (~ 6 m), is an extraordinary feat of evolution that has inspired awe and wonder for at least 8,000 years — as far back as the famous rock carvings at Dabous in the Republic of Niger," said Douglas Cavener of Penn State, who led the research team with Morris Agaba of the Nelson Mandela African Institute for Science and Technology in Tanzania.
How did the giraffe get its long neck? Clues now are revealed by new genome sequencing.
More in Enn Original News
SPOTLIGHT
Karen Klein, Yale Environment 360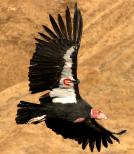 After years of intense — and often controversial — restoration efforts, biologists are finally reporting some good news for the beleaguered California condor: More chicks are surviving in the wild, and the birds are becoming increasingly independent and expanding their range.
Earlier this year, the U.S. Fish and Wildlife Service announced what it called a milestone for the California condor: More chicks had hatched and fledged in the wild during 2015 than the number of condors that had died. In late March, Steve Kirkland, the agency's condor field coordinator, reported that two more chicks had fledged in 2015 in Baja California, but had only just been discovered, bringing the total in the wild to 270.
It was perhaps the most promising news about the condor in decades.