Wildlife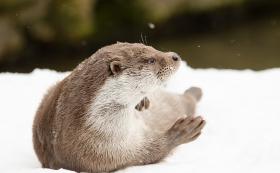 As temperatures drop, most creatures retreat to hunker down or hibernate.

Areas in Latin America suitable for growing coffee face predicted declines of 73-88 percent by 2050. However, diversity in bee species may save the day, even if many species in cool highland regions are lost as the climate warms. The research, co-authored by David Roubik, senior scientist at the Smithsonian Tropical Research Institute, will be published in an early online Proceedings of the National Academy of Sciences edition between Sept. 11-15.
SPOTLIGHT
University of Illinois at Urbana-Champaign

An unusually cold winter in the U.S. in 2014 took a toll on the green anole lizard, a tree-dwelling creature common to the southeastern United States. A new study offers a rare view of natural selection in this species, showing how the lizard survivors at the southernmost part of their range in Texas came to be more like their cold-adapted counterparts further north.