Smugglers Nabbed At Russian-China Border With Tiger Pelts, Hundreds Of Bear Paws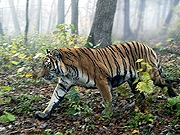 Vladivostok, Russia "" Border police and Federal Security Bureau have collaborated in the arrest of a band of smugglers attempting to ship 480 bear paws as well as a tiger pelt and skeleton across the Russian-Chinese border
Russian border police and federal security agencies found the smugglers on August 17th, attempting to cross the border by boat across Lake Khanka, 300 kilometers from Vladivostok. The smugglers - Chinese nationals - were working to feed the vast underground market for wildlife products in the People's Republic, where wildlife products are sold widely for use in Traditional Chinese Medicine as well as luxury goods as status symbols. Chinese wildlife consumption has driven smugglers to develop illegal wildlife trade routes via Southeast Asia, Tibet, and the Russian Far East, and even as far as Africa and Europe. Khanka Lake is considered one of the most complicated and important routes for contraband between Russia and China.
The value of the goods is estimated at $36,000 in Russia. This would have been far higher in China's thriving illegal wildlife trade markets. The bear gall bladders, whose bile is used in Traditional Chinese Medicine, would have been smuggled separately, as the value of the bile exceeds that of the paws. The paws are from Himalayan black bears (Ursus thibetanus), recognized by the International Union for Conservation of Nature-World Conservation Union (IUCN) as globally Vulnerable due to habitat loss and poaching. The tiger pelt is from the Critically Endangered Amur (Siberian) tiger (Panthera tigris altaica), now found only in the Russian Far East. Both species are regulated by the Convention on International Trade of Endangered Species of Fauna and Flora (CITES), to which both Russia and China are signatory.
The seizure was first reported to the international community by the Phoenix Fund, a leading Russian wildlife conservation organization. Phoenix also requested that Russian authorities start official CITES procedures on the case. According to Phoenix Fund director Sergei Bereznuk, "This and previous seizures demonstrate the weakness of Chinese arguments that legalizing tiger farming and trade in tiger parts will eliminate smuggling tiger derivatives into China. There are bear farms in China, but bear poaching and smuggling has not decreased. We appeal to the international community to support wild tiger conservation and to prevent legalization of trade in tiger parts in China." Government and commercial interests in China have advocated for legalizing the sale of farmed tigers and tiger products.
Michael Zwirn, Director of U.S. Operations for Wildlife Alliance, one of Phoenix Fund's partners, observes, "The most frightening thing is that we know that wildlife smugglers are rarely caught, due to weak enforcement. If one operation can move the remains of 240 bears, how many shipments escape undetected?"
This seizure, although noteworthy for the volume of contraband wildlife products, is by no means unprecedented. Major confiscations of wildlife products in the Russian Far East in recent years include these sample large confiscations:
1. March 2004 (778 bear paws, 388 kg of dry sea cucumber, 42 antlers, fur animals' skins (1,550 Siberian weasel skins, 1,600 sable skins, 53 raccoon skins, 30 fox skins, 155 beaver/mink skins, 2,180 squirrel skins), 280 musk glands, 24 bear galls, 3 pheasants, 3 deer hearts, 64 deer penises, and other products valued at approximately $100,000). Seizure at the Poltavka checkpoint on the Russia-China border.
2. January 2007 (three tiger skins, eight tiger paws, 531 saiga horns, 283 bear paws, plus five packages full of wild animal skeletons, valued at approximately $75,000). Seizure in southern Primorski Krai.
3. April 2002 (eighteen live bear cubs found in cardboard boxes). Seizure made in a shipping route nearing the Russia-China border
2. The demand in China for wildlife products, including bear gall bladders, tiger bones, and many other products made of endangered species, is widely recognized as one of the key factors in organized commercial poaching and wildlife smuggling operations. These organized crimes have a global footprint that is tied to the risk of extinction for wildlife species from East Africa to Southeast Asia to the Russian Far East "" and even as far as Canada and the United States, from which bears are poached for their gall bladders and bile.
3. Government and commercial interests in China have advocated for the legalization of the sale of farmed tigers and tiger products, as well as increased bear farming. Conservationists around the world fear that the increased "legal" trade could drive the wild populations of these species even closer to extinction. Fortunately, the United States, India, Russia, and many other countries have fought these efforts in the Convention on International Trade in Endangered Species of Fauna and Flora (CITES).
4. There are approximately 450 wild Amur (Siberian) tigers left in the world. While the Siberian tiger is Critically Endangered, its population has dramatically increased and stabilized since the early 1990s, when rampant poaching and lawlessness left Russia's tiger populations on the verge of extinction. Patrols and increased enforcement, led by Phoenix Fund and other groups, are credited with the tiger's survival and recovery.
About Phoenix Fund
The Phoenix Fund was established in March 1998. Its mission is to conserve the rich biodiversity of the Russian Far East through initiating, funding and implementing conservation projects. Phoenix Fund receives support from organizations including Wildlife Alliance, Save the Tiger Fund, Tigris Foundation, Rhinoceros and Tiger Conservation Fund, Alertis: Fund for Bear and Nature Conservation, IFAW, ZSL, the 21st Century Tiger Fund, Rufford Foundation, AMUR, WWF, WFN, and Project AWARE. In 2006 Phoenix Fund Director Sergei Bereznuk won the £30,000 Whitley Award recognizing his "outstanding achievements in nature conservation."
About Wildlife Alliance
Wildlife Alliance's mission is to protect and preserve wildlife, forests and oceans for future generations. Its field operations, formerly carried out under the name WildAid, train and equip park rangers to fight crimes against nature, prevent poaching and illegal habitat destruction in Southeast Asia, Latin America, Russia and the Western Pacific through collaboration with governments and communities. Wildlife Alliance improves the management of protected areas, supports sustainable development initiatives, and empowers countries to enforce transboundary wildlife regulations.