Tribe Apologizes for Whale Shooting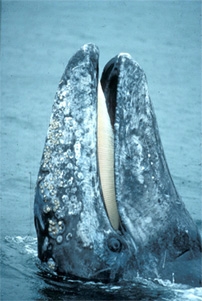 WASHINGTON (AP) -- Leaders of the Makah Tribe apologized to federal officials and members of Congress on Wednesday for the unauthorized killing of a gray whale off the coast of Washington state.
At separate meetings with the state's senators and officials with the National Oceanic and Atmospheric Administration, tribal leaders condemned the illegal whale hunt. It has drawn international attention to the tribe's efforts to revive its traditional right to whale hunting.
Five Makah men are under investigation by tribal authorities and the National Marine Fisheries Service in the killing of the California gray whale. The whale was harpooned and shot several times Saturday near Neah Bay, Wash.
Micah McCarty, a tribal council member who attended the meetings, said the hunt "inflamed an already controversial issue." But he said he was optimistic it would not affect the request before NOAA for a waiver to allow ceremonial and subsistence whaling of as many as five whales a year.
"It's a public relations setback," McCarty said at a news conference.
NOAA's chief, Conrad Lautenbacher, and the agency's fisheries director, William Hogarth, met with tribal leaders. A spokeswoman, Monica Allen, said Hogarth is convinced that "the tribe is taking this very seriously, and they are on top of it."
Sen. Patty Murray, D-Wash., said the illegal hunt was "a very serious situation," but commended the Makah leaders "for immediately condemning this rogue act and taking steps to prosecute the offenders."
Brian Gorman, also a spokesman for the fisheries service, said the five men arrested last weekend could face civil penalties of up to $20,000 each and up to a year in jail. Criminal prosecution under the federal Marine Mammal Protection Act is rare, he said.
Gorman confirmed that the fisheries service was nearing a decision on the tribe's waiver request.
"The episode over the weekend has certainly slowed things down. We're going to have to reconsider the whole process. It doesn't mean we're withdrawing from it," he said. "We need just to have a little breathing room."
---
On the Net:
Makah Nation: http://www.makah.com/
NOAA Fisheries: http://www.nmfs.noaa.gov/