Throwing Polar Bears a Lifeline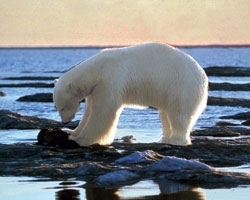 A trio of leading environmental groups joined together again last week in filing suit against the federal government for missing the legal deadline—it passed more than two months ago—to make a final decision on whether to afford the polar bear protection under the Endangered Species Act (ESA). The three groups—the Natural Resources Defense Council (NRDC), the Center for Biological Diversity and Greenpeace—contend that polar bear populations are threatened due to the global warming-induced break-up of the Arctic sea ice that serves as their habitat during the crucial summer feeding season. Several leading scientists concur that the Arctic could be ice-free in the summer within a half-dozen years. And a recent U.S. Geological Survey report predicted that two-thirds of the world's remaining polar bears would likely be extinct by 2050, including all polar bears within the U.S.
"The Endangered Species Act is absolutely unambiguous: the Fish and Wildlife Service was required to make a final decision months ago. Now it's up to a federal court to throw this incredible animal a lifeline," said Andrew Wetzler, director of NRDC's Endangered Species Project.
Beyond protecting a majestic species, the case is significant for the climate issue as well. The groups believe that if the federal government acknowledges that the polar bear is threatened due to human-induced global warming by granting it protection under the Endangered Species Act, it will be compelled to implement mandatory greenhouse gas emission reductions. And that is something the Bush administration has been unwilling to consider to date.
"We believe if and when the polar bear is listed, all federal agencies approving major sources of greenhouse gas emissions will have to look at ways to reduce those emissions to protect polar bears," says Kassie Siegel, an attorney for the Center for Biological Diversity.