Thai Police Sting Wildlife Dealers: Undercover Operation Nets Some of World's Most Endangered Species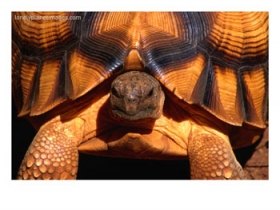 (Bangkok, March 22)— Thai Police today conducted their largest operation on wildlife dealers this year when 40 officers raided ten shops suspected of selling rare and endangered species in the famous Jatujak Bangkok weekend market.
In an undercover sweep operation, officers from the Royal Thai Police Natural Resources and Environmental Crime Division caught a number of dealers red-handed as they attempted to sell some of the world's most endangered species to undercover agents.
One dealer attempted to sell a Madagascar Ploughshare tortoise, of which there may be only 250 left in the world. Adult plowshares can cost up to $30,000 per animal, while infants cost at least $1,000 apiece. Other dealers were caught selling slow lorises under the table. An endangered primate, the slow loris is sold to rich consumers not only in Thailand, but are also smuggled out to Japan, Russia and the United States as part of the illegal exotic pet trade.
The undercover operation revealed that some dealers in Chatuchak Market are part of an international network in endangered species trafficking. Police Colonel Montree Yimyam commented that, "If dealers in Thailand do not take care of wild animals and respect our laws, we will surely arrest them."
Due to the international connections that some dealers apparently have, the Thai police invited law enforcement agencies from other parts of the world to join them in their investigations. A US Fish and Wildlife Service Special Agent was present for today's operation, expressing interest in the connections between dealers at Jatujak and buyers in the United States.
"Thai Police are to be congratulated for today's show of force, which demonstrates leadership in wildlife protection in Southeast Asia," said Steven Galster, Director of Operations for Wildlife Alliance. "We hope to see police agencies in other countries follow this example and join up to catch cross border wildlife criminals." Thailand launched the ASEAN Wildlife Enforcement Network in December 2005 and have increased wildlife crime confiscations and arrests ever since.
####
Wildlife Alliance is an international conservation organization whose mission is to protect and preserve wildlife, forests and oceans for future generations. Our field operations, formerly carried out under the name WildAid, train and equip park rangers to fight crimes against nature, and prevent poaching and illegal habitat destruction in Southeast Asia, Latin America, Russia and the Western Pacific through collaboration with governments and communities. We improve the management of protected areas, support sustainable development initiatives, and empower countries to enforce transboundary wildlife regulations. For more information, please visit www.wildlifealliance.org.