Gulf oil spill hits Day 40 with no end in sight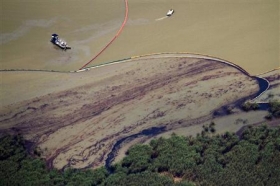 The worst oil spill in U.S. history hits its 40th day on Saturday with Gulf residents clinging to one tenuous hope: that BP's complicated "top kill" operation will plug the gushing well.

Beleaguered Louisiana residents heard from President Barack Obama and BP CEO Tony Hayward on separate visits to the Gulf coast on Friday as they tried to get a handle on a crisis damaging the credibility of both the government and BP.

Obama, facing criticism that he responded too slowly to the environmental catastrophe in the Gulf of Mexico, assured Louisianians during his five-hour visit that they "will not be left behind" and that the "buck stops" with him.
Hayward, on a visit to the site of the April 20 rig explosion that killed 11 workers and unleashed the oil, said the energy giant needed up to two more days to determine if the top kill will stop the underwater gusher once and for all.
The top kill, however, is a tricky maneuver that involves injecting heavy fluids, material and cement into the well to stifle the flow. It has never been done at this depth, one mile under below sea level.
Hayward dismissed concerns about delays, which made investors jittery and drove BP shares down 5 percent Friday.
"We're continuing because we are making progress," Hayward said on a drilling ship at the site, with perspiration dripping from under a white plastic BP safety hat.
Obama is caught in a tight spot: there is not much he can do about the well other than apply pressure to BP to get it right and put his best scientists in the room. The government has no deep-sea oil technology of its own.
That fact is not lost on the people of Louisiana's coast, a hub of the U.S. oil industry and now the site of the country's largest oil spill after it surpassed the 1989 Exxon Valdez disaster in Alaskan waters.
Photo shows oil impacting Redfish Bay in Louisiana's birdsfoot delta, where the Mississippi River empties into the Gulf of Mexico, May 27, 2010.
Credit: REUTERS/Jeffrey Dubinsky/Gulf Restoration Network/Handout
Article continues: http://www.reuters.com/article/idUSTRE6430AR20100529