Painting a Wild Picture of North America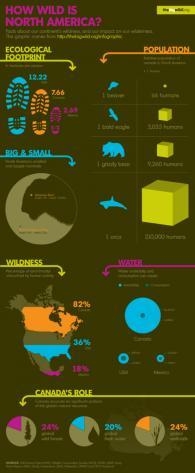 "Do something small to save something big". That's The Big Wild's motto. In the world of wilderness conservation, connecting people to their ecological footprint is a big, wild challenge.
The Big Wild is a conservation organization founded by Canada's Mountain Equipment Co-op and the Canadian Parks and Wilderness Society. We represent conservation campaigns across the country that have reached their tipping point and need public input to help call on political representatives to protect Canada's wilderness. We connect communities to conservation efforts across the country. What better way to measure how "wild" North America is than with an infographic?
Infographics are eye-candy with impact. They're compact, visual representations of data that can tell a story quickly and effectively. Websites dedicated entirely to infographics are popping up everywhere and anyone involved in online media will most likely have come across an infographic in their time. For our infographic, we took a look at "wild" indicators in North America and here's what we came up with:
How "wild" Canada is compared to the United States and Mexico
The North American ecological footprint
Human population relative to indigenous animal species
The largest land mammal in North America compared to the smallest
How much water North Americans drink compared to how much is available
How much wild space Canada provides the world
One of the most striking pieces of data we came across was the area of land in Canada mostly untouched by people. That's not to say that humans haven't walked though or over 82% of Canada, but we've managed to hold off on industrial activity in these places. Where we run into trouble is when human activity interrupts natural corridors that wildlife and water depend upon. When we interrupt these corridors, otherwise known as wildlife management areas, we break ecosystems that have been intact for thousands of years.
A prime example of a wilderness corridor in dire need and at the mercy of a national government is The Flathead River Valley. It rests along the Canada-US border in British Columbia, just north of Montana. The Flathead River Valley is the last valley in the Canadian Rockies that's untouched by industry. It's home to more species of wild flowers than anywhere else on the planet and it's not easily accessible by road. Of course, wildlife like mountain goats, lynx and grizzly bears that call the Flathead home don't follow international borders or park boundaries. The Flathead is also a key section of a vital Yellowstone to Yukon wilderness corridor.
With our landscapes changing so fast, the search for new resources and climate change affecting habitats, wildlife have little time to adapt. That's why we've make it our goal to protect at least 50% of Canada's wild spaces – so these corridors and vestiges of wilderness remain intact. 
For more information: http://www.thebigwild.org/infographic