Priceless rock art in National Conservation Lands being defaced, destroyed, stolen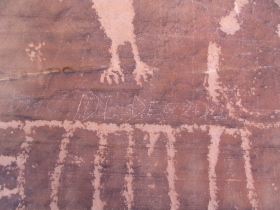 Ongoing investigations of sites within our National Conservation Lands in the Southwest and southern California are uncovering evidence of cultures and traditions dating back thousands of years. These sites are providing a one-of-a-kind opportunity to research, study, and assess how these different cultures lived and adapted. Something new is being found all the time. Yet, most have never heard about these efforts, let alone the sites and the cultural treasures they contain.
One unit within the National Conservation Lands, Canyons of the Ancients in Colorado, has been focal point of these research efforts. It has by far the greatest known concentration of archeological sites in the nation – 6,400 so far -- including cliff dwellings, villages, great kivas, and rock art. But it is not alone.
Sloan Canyon, close to Las Vegas, has what is called the Sistine Chapel of Native American rock art. Researchers at Las Cienegas in Arizona are uncovering villages dating back 2,500 years or more. And San Jacinto/Santa Rosa and San Jacinto Mountains in southern California contains the nexus of prehistoric trails and agave pits for the Agua Caliente Cahuilla Indians.
All these sites are part of our National Conservation Lands which are celebrating their 10th anniversary this year. The Lands consist of some of the country's most spectacular scenic, historic, natural, cultural and archaeological places – in all, more than 800 National Monuments, Wilderness Areas, Conservation Areas, Scenic and Historic Trails, and Wild and Scenic Rivers. These Lands are, in fact, where you can experience the American West as it was.
Sadly, since they were established a decade ago, our National Conservation Lands have not gotten the level of funding, protection, recognition, or support that they need from the federal government to step up the inventory, assessment, preservation, and maintenance of the archeological sites to be found. Even at the Canyons, which is further along in its assessment of its cultural resources than any other unit of National Conservation Lands, only a quarter of the estimated sites have been identified to date.
Many cultural resources also are increasingly threatened by vandalism and looting. Rock art is used for target practice. Boulders containing petroglyphs have been trucked away, one only recently in Arizona. Human remains are disturbed. And rock shelters and habitation sites are burrowed into, sifted through, and dug out by those searching for artifacts. Indeed, some would-be vandals and looters are using GPS tracking devices to find ruins only to deface or remove them when they do!
This summer and fall, volunteers are fanning out to many units of our National Conservation Lands to help restore and conserve the lands and the cultural resources they contain. But more, much more, needs to be done.
Photograph shows graffiti defacing an age-old petroglyph in the Gold Butte Wilderness area of Nevada. Note the date atop, below, and beside the petroglyph.
For more information: http://conservationlands.org/