Maldives 'tourism boom' putting manta rays at risk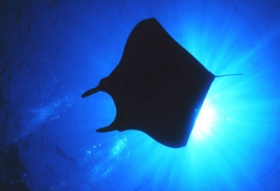 Despite its recent status as a Marine Protected Area (MPA), a popular tourist destination in the Maldives is facing a massive decline in wildlife and tourism unless proper management is put in place. Since being awarded MPA status in 2009 and receiving increased media interest, Hanifaru Bay in Baa Atoll has seen its tourism trade triple.
But Guy Stevens, director of the Maldives Manta Ray Project, warns that without proper management this 'cannot go on', and suggests that in just 'five years we will see a massive decline in the number of animals that will come to Hanifaru'. Stevens says the area is 'failing as a Marine Protected Area', with no management or enforcing of regulations; he says it hasn't been a priority for the Maldives government and is just a 'paper park'. He adds that pressure is now on the authorities to 'sort it out' before the start of the next manta ray season.
Although the main area is only the size of a football pitch, Hanifaru is a world-famous feeding site for up to 250 manta rays, which have an average wingspan of 3m.
Stevens explains the problem is the 'sheer volume of people in the water' - he has seen as many as 13 boats and almost 200 people there at one time, inhibiting the animals' ability to feed: 'They just physically cannot swim through the water to feed on the plankton... The contact from people, touching, bumping into the animals disturbs their feeding behaviour.'
Article continues: http://www.theecologist.org/News/news_round_up/639383/maldives_tourism_boom_putting_manta_rays_at_risk.html