Historic tiger summit closes with plans to secure more financial backing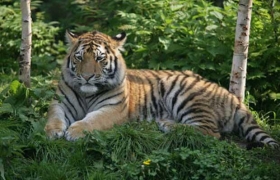 St. Petersburg, Russia: The historic International Tiger Conservation Forum ended today with crucial plans to discuss further financing options for the Global Tiger Recovery Programme approved at the meeting, kick-starting new efforts to double the number of wild tigers.
On the final day of the summit, delegates met briefly to hammer out key dates in the coming year to reach final agreement on how to pay for and monitor the recovery plan. This followed the endorsement on Tuesday of the Programme and a Leader's Declaration by heads of government and tiger range countries.
"This summit has created the high level government backing that we needed to create a platform to immediately reverse the decline of wild tigers which is threatening them with extinction," said Michael Baltzer, head of WWF's Tigers Alive initiative. "We need governments to lead the charge forward and maintain this political enthusiasm and intensity – because the tiger cannot wait for our help."
The 13 tiger range countries will meet during the next six months to secure more cash for the recovery plan and will finalize the long-term financing of the plan in July. They will meet again in December 2011 to monitor how well the 12-year-plan to save tigers is working.
Article continues: http://wwf.panda.org/?uNewsID=197208