Yellowstone bison debate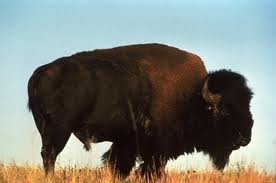 Less than a week after 25 wild buffalo from the nation's last purebred herd were permitted to roam into Montana, officials have shot and killed one bison and were debating the fate of 14 others.
Government wildlife managers on January 19 drove a trial band of buffalo, or bison, from Yellowstone National Park into nearby Gallatin National Forest in Montana to use winter grazing grounds for the first time in more than a century.
The plan represented a hard-won agreement among federal and state governments, ranchers and conservation groups over an animal that symbolizes the American West.
Until now, any of the 3,900 buffalo escaping the deep snows of Yellowstone to forage in Montana's lowlands were chased back into the park, quarantined or killed to stop them from infecting cattle with brucellosis, a disease that causes cows to abort.
The 25 buffalo pushed by officials on horseback and on all-terrain vehicles onto forest lands in Montana were meant to stay until spring, when biologists hoped they would migrate back to the park.
But officials say 15 of the brucellosis-free band repeatedly crossed to private ground on the east side of the Yellowstone River, where they are not tolerated.
Seven government wranglers spent most of Sunday and Monday trying to drive a bison cow back to public lands before Montana Department of Livestock agents decided to shoot and kill the animal for acting aggressive.
"They couldn't get her turned around so they had to lethally remove her," said agency spokesman Steve Merritt.
Pat Flowers, regional supervisor for the Montana Department of Fish, Wildlife and Parks, said shooting the bison was a last resort.
Photo credit:  nps.gov
Article continues: http://www.reuters.com/article/idUSTRE70P5V620110126