Time to Get to Know!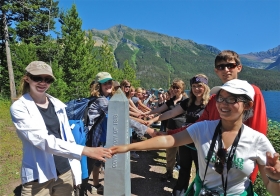 The 2011 Canadian Wildlife Federation Robert Bateman Get to Know Contest begins April 10. Renowned wildlife artist Robert Bateman invites youth aged 5-18 to go outside and "get to know" their wild neighbours by creating art, writing, digital photography, and video entries. The goal: to engage the power of art to help youth become more connected with nature.
Last year, twenty two winners of the Robert Bateman Get to Know Contest attended the Get to Know Art & Nature Camp at the Waterton-Glacier International Peace Park on August 23-27. Hosted by Parks Canada, the kids took part in workshops (led by local artists from Alberta and Montana), discovered local species and ecosystems, and worked on a video project encouraging young people across North America to enter the new video category of the Get to Know Contest.
This year has been declared the International Year of Forests by the United Nations. In celebration of this important designation, the theme of the 2011 Get to Know Contest is "This is My Forest". Whether it's a single tree in a backyard or acres of boreal forest in a national park, the contest offers youth the opportunity to learn about and celebrate their local forest and its inhabitants.
The winners this year will receive all kinds of wild prizes, including cash, the chance to have their entry published in the 2012 Robert Bateman Get to Know Calendar, and an invite to the 2011 Art & Nature Camp. Held in beautiful Victoria, British Columbia, the winning contestants will get to experience both the Gulf Islands National Park and Reserve and Fort Rodd National Historic Park. The contest launches April 10, at participating parks, zoos, and museums all across Canada. To learn more and find out how to enter, visit www.gettoknow.ca.

Photo shows American and Canadian winners of the 2010 Get to Know Contest reaching across the border in Waterton-Glacier International Peace Park. The contest encourages youth to get to make connections with other environmentally-conscious youth, use the creative arts to convey their passion, and celebrate their accomplishments. Connect...Create...Celebrate!
ENN.com is a media sponsor of the Get to Know Contest.