Human activity can't always be blamed for coral reef decline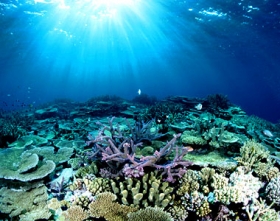 The decline of coral reefs over the last few decades is often squarely blamed on human activity. But a recent study suggests the picture is in fact a little more complex. Researchers have found that our actions aren't always responsible for the decline of coral reefs; some reefs stop growing simply because they've reached the end of their natural lifecycle.
The UK and Australian researchers found that in some parts of Australia's Great Barrier Reef, different reefs have grown at varying rates and times over the last 10,000 years. Some essentially stopped growing without any kind of human influence.
'There's an assumption that degraded reef states are a function of environmental stress, linked to anthropogenic activity,' says Professor Chris Perry, an expert in coral reefs at Manchester Metropolitan University, who led the latest study, published in Global Change Biology.
'Whilst this is often the case, the picture is not as simple as that. Some degradation is natural and not the result of anthropogenic stress. It may simply be that a reef has gone through its natural evolutionally life cycle and then shutdown.'
Perry and Scott Smithers from James Cook University in Australia found that some reefs within the nearshore parts of the Great Barrier Reef stopped growing between 4,000 and 5,000 years ago. But in other places, new reefs have established themselves only in the last 1,000 to 2,000 years.
Article continues: http://planetearth.nerc.ac.uk/news/story.aspx?id=907