Photos: penguins devastated by oil spill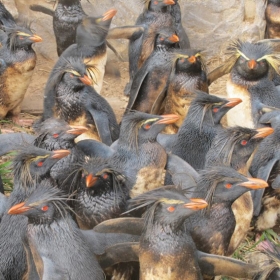 Disturbing photos show northern rockhopper penguins (Eudyptes moseleyi) hit hard by an oil spill from a wrecked cargo ship on Nightingale Island in the Southern Atlantic. Already listed as Endangered by the IUCN Red List, the oil spill threatens nearly half of the northern rockhopper population according to BirdLife International. Already conservation workers say 'hundreds' of penguins have been oiled.
Located the remote Southern Atlantic, Nightingale Island is a part of the UK's Tristan da Cunha archipelago. The island's are home to a variety of birdlife, including species that survive no-where else but on the archipelago.
Workers with the Tristan Conservation Team have been sent to the oil spill to aid the wildlife, including the penguins. However, Nightingale has no fresh water, so the penguins will have to be transferred to Tristan da Cunha Island to be cleaned.

Workers found an "awful scene" with an oil slick ranging "from thin films of oil, small balls and larger clumps of tar with the smell of diesel everywhere," according to the Department.
In addition, a tugboat has been sent from the nearest coast—South Africa—to drag the broken craft away. Fortunately, all 22 employees of the wrecked cargo craft are safe. The tug boat is also bringing an environmental expert, Estelle van der Merwe, with experience in working with oiled birds as an advisor.
Article continues: http://news.mongabay.com/2011/0322-hance_oilpenguin_photos.html
Photo courtesy of The Tristan da Cunha Website