Over 900 species added to endangered list during past year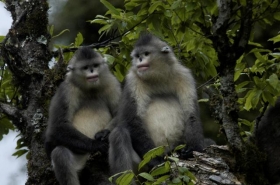 The past twelve months have seen 914 species added to the threatened list by the world's authority of species endangerment, the International Union for the Conservation of Nature (IUCN)'s Red List. Over 19,000 species are now classified in one of three threatened categories, i.e. Vulnerable, Endangered, and Critically Endangered, a jump of 8,219 species since 2000. 
Species are added to the threatened list for a variety of reasons: for many this year was the first time they were evaluated, for others new information was discovered about their plight, and for some their situation in the wild simply deteriorated. While scientists have described nearly 2 million species, the IUCN Red List has evaluated only around 3 percent of these.
"The key to halting the extinction crisis is to target efforts towards eradicating the major threats faced by species and their environment; only then can their future be secured," explains Simon Stuart, Chair of IUCN's Species Survival Commission in a press release. "The IUCN Red List acts as a gateway to such efforts, by providing decision makers with a goldmine of information not only on the current status of the species, but also on existing threats and the conservation actions required."
Nineteen species of amphibians were added to the list this year, and a stunning eight of these were listed as Critically Endangered, including a yellow-and-orange harlequin toad (Atelopus patazensis) from Peru and a dwarf salamander (Dendrotriton chujorum) from Guatemala. According to the Red List, amphibians are among the world's most threatened groups: 41 percent of the world's frogs and salamanders are currently facing extinction.
Habitat loss, invasive species, pollution, and a lethal plague, known as chytridiomycosis, have decimated amphibian populations worldwide. The IUCN Red List has evaluated 93 percent of the world's nearly 7,000 amphibians. However, a recent study predicted that a further 3,000 amphibians likely still remain unknown to scientists.
This year was the first time that New Caledonia's endemic reptiles were evaluated. For those species where there was sufficient data to make a determination, 67 percent were threatened with extinction. The forests of New Caledonia—incredibly rich in species found no-where else—were recently listed by Conservation International as the world's 2nd most threatened forest biodiversity hot spot, since only 5 percent of the islands' forests remain. Deforestation, widespread nickel mining, and introduced species, have decimated the islands' unique residents.
Photo shows Yunnan Golden Monkey, found in northern Yunnan, is on the red list. Credit: http://sgp.undp.org/web/images/9515/the_endemic_yunnan_golden_monkey_is_the_endangered_species_in_iucn_red_list.html
Article continues: http://news.mongabay.com/2011/0616-hance_iucn_redlist_2011.html