Book Review: Curious Critters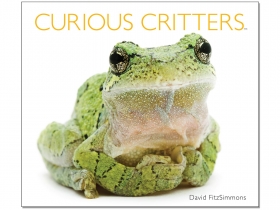 When picking up an animal themed children book one expects to see either fuzzy pictures of cute kittens and ducklings or cartoonish creatures participating in human behaviors. David FitzSimmons takes a different approach to animals in his book "Curious Critters", which won a 2011 Moonbeam Children's Book Award. Instead of going soft and fuzzy or cartoonish, FitzSimmons takes beautifully detailed photographs of some of the strange, yet common creatures that can be found in North America.
All of the photos in "Curious Critters" are set against a white backdrop which highlights the colors, textures, and shapes that might not normally be noticed. Each photo is accompanied by a short story where the animals do more then just ask about their mothers, instead talking about their habits and the environment they live in.
"Curious Critters" highlights 21 animals including a southern flying squirrel, a jumping spider, an eastern screech owl, and an Ohio crawfish. My favorite photo in the book is of the red flat bark beetle. The white contrast of the background highlights the brilliant red coloring of the beetle and draws the eyes to the tiny details such as the segments of antennae, the dimpling on the beetles head and body and a tiny mite hitchhiking between the beetles thorax and abdomen.
David FitzSimmons whose background is photography wrote "Curious Critters" with the hope that his book would inspire children and adults to conserve nature. Often when we think of wildlife we forget about all the amazing creatures in their own backyard and instead think of exotic creatures from tropical lands. "Curious Critters" reminds the reader of all the beautiful creatures that we see every day but never really think about and inspires the readers to pay more attention to them. Besides trying to raise children's awareness of the environment FitzSimmons also considered national educational standards and addressed all of the National Research Council's life science standards for grades K-4. In the back of the book FitzSimmons includes natural history bios of all the species included in the book, a glossary of all the terms used in the book, and "challenges" that test a youngsters' skills in classifications and identifying shapes.
An additional bonus of "Curious Critters" is it's wonderful website, www.Curious-Critters.com. The website includes something for everyone, Cute E-cards, educational tools for parents and teachers, games for children, and photography notes by FitzSimmons for avid photographers. "Curious Critters" is an excellent addition to any children's library and I recommend it to any family that is looking for a unique animal book with beautiful photography.