Over 30 Yangtze porpoises found dead in China as population nears extinction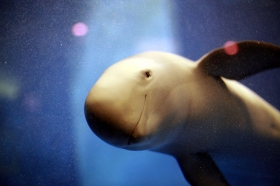 Six years after the Yangtze river dolphin (Lipotes vexillifer), or baiji, was declared "functionally extinct" by scientists, another marine mammal appears on the edge of extinction in China's hugely degraded Yangtze River. In less than two months, 32 Yangtze finless porpoises (Neophocaena asiaeorientalis asiaeorientalis), a subspecies of the finless porpoise, have been dead found in Dongting and Poyang Lakes in the Yangtze, reports the World Wide Fund for Nature (WWF). The porpoises are suffering from many of the same impacts that pushed the baiji to extinction: illegal electrofishing, strikes by boat propellors, poisons, and possibly pollution and food shortages from lower water levels linked by officials to climate change. Autopsies show that at least two of the animals were killed by electrofishing and boat propellers.
"This tragedy shows that Yangtze finless porpoise is facing enormous challenges," Lei Gang, head of WWF China's Central Yangtze program, said in a press release. "The porpoise deaths illustrates that without effective measures to fundamentally reverse the trend of ecological deterioration, future of the incredible creature is far from certain. We have to act immediately."
This article continues at Yangtze
Porpoise image by Kenichi Nobusue via Mongabay