Sumatran Orangutan Relocated as Forest Clearing Continues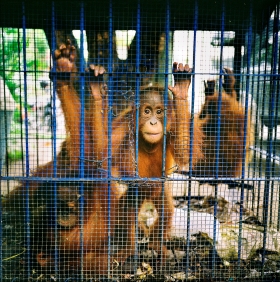 An imperiled orangutan was rescued from a small patch of the Tripa peat swamp rainforest in Sumatra last month, in an effort to save this large adult male from starvation. But experts fear he could be among the last of his kind in what was once prime habitat for these graceful, shy great apes.
The orangutan had become trapped in the area when the forest around him was cleared by developers to make way for the planting of palm oil. Yenny Saraswati, a veterinarian who specializes in the care of orangutans at the Sumatran Orangutan Conservation Programme, was alerted of the orangutan by villagers in the Tripa rainforest, who sent him a text message: "Another orangutan needs help."
Yenny dispatched a local member of her field staff to find and monitor the orangutan. They found the forest creature in an small oasis of surviving forest, created as palm oil companies cleared the surrounding forest for new plantations. The orangutan was running out of food, like wild fruits and insects, according to Dr Ian Singleton, the orangutan expert and Director of the Sumatran Orangutan Conservation Programme who oversaw the rescue.
Orangutans are highly intelligent animals. They make umbrellas using forest leaves to hold over their heads when it rains, they engineer complex and cozy sleeping nests capable of supporting their bulk high up in the canopy, and in Sumatra's peat swamp forests, like Tripa, they fashion tools out of sticks to extract honey from bees nests and the seeds of hard Neesia fruits; Indonesians call them orang hutan, or "people of the forest." And, just like most of us city dwellers, orangutans suffer when they are removed from their lifelong homes.
But Singleton, Yenny and their crew decided they had to move this starving orangutan, despite the trauma of relocation, after watching him lose thirty percent of his body weight over the last three 3 months.
The IUCN lists the Sumatran Orangutan as Critically Endangered – the highest threat level on this organization's "Red List" of imperiled species. In 1950 the Sumatran orangutan population probably well over 30,000. Today, only around 6,000 remain. Every Sumatran orangutan counts in their efforts to save these great apes from extinction, Singleton says.
Cik Rini, a communications manager at World Wildlife Fund-Indonesia, says it is difficult to protect even the most important orangutan habitats from destruction. The relocated orangutan was found in a fragment of the Tripa forest once home to as many as 2,000 orangutans. These peat swamps contain the highest densities of orangutans in the world but, today, only about two hundred still live in the area, said Rini. Much of the forest has been heavily cleared to make way for the 5 palm oil plantations that operate there. Rini sees the plight of the relocated orangutan as representative of an ongoing trend in Indonesia, where the country's last remaining rainforests are rapidly being replaced with big plantations to grow palm oil, almost exclusively for foreign markets. "If we cannot save a forest as unique and valuable as Tripa, what can we save?" Rini wondered.
Oil palm trees, originally from West Africa, are grown in Indonesia to produce palm fruits, harvested by workers and then pressed in large processing mills distributed throughout Sumatra and Borneo to create palm oil. Indonesian, Malaysian, American and European agribusiness companies like Sinar Mas, Wilmar, Cargill and London Sumatra are among the largest growers of palm oil in Indonesia - the world's largest producer of the commodity, exporting about 45 percent of all palm oil sold worldwide to be consumed as cooking oil, processed foods, cosmetics and even biofuels.
In April I authored a report, Truth and Consequences: Palm Oil Plantations Push Unique Orangutan Population to the Brink of Extinction, released by the San Francisco-based environmental activist group Rainforest Action Network. As a political ecologist, I have lived in Indonesia's forests since 2007, studying the environmental changes and community responses that result from palm oil expansion. Tripa is a particularly stark illustration of the dangers of palm oil plantations; working with Indonesian colleagues, I have watched the plantations grow as deforestation and fires lead to the death of hundreds of orangutans that can not be found and relocated before they starve, are killed by palm oil plantation employees, or are captured for the illegal pet trade in the remaining scattered forest patches.
For now, the starving orangutan has been successfully relocated to a conservation area some distance from Tripa — a location that holds enough food for him and that is safe from palm oil development, for the foreseeable future at least. But there's a very real chance he will be among the last survivors from these once-teeming forests. According to Singleton, the pace of destruction in Tripa is so great that its orangutan population will be extinct by the end of 2012, if the current wave of business-as-usual palm oil development there is not halted immediately. "This is a tragedy on a global scale," he said.
For more information: http://ran.org/tripa-expose
Image credit: David Gilbert